AccessLex Institute understands that America's present and future economic prosperity is directly linked to its citizens' ability to lead research, drive innovation, and become entrepreneurs.
Alleviating or removing economic barriers for students who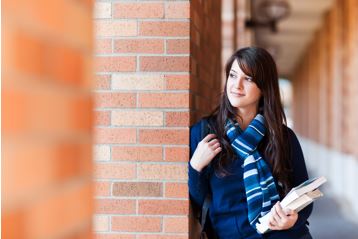 are contemplating or already enrolled in graduate study will enable them to meet their goals and allow them to give back to society.
Most specifically, we seek to:
Improve access to legal education for all students, with an emphasis on historically underrepresented minority students and students from economically disadvantaged backgrounds;
Increase affordability and financing options available for students pursuing legal education; and,
Strengthen the value of legal education.
And while our area of focus is on legal education, we advocate for policies that will benefit all graduate and professional students.
Below are some critical issues and recommendations that policy influencers and lawmakers should consider as discussions about higher education occur.
Financial aid administrators should be able to require additional loan counseling for graduate and professional students.
Under current law, entrance and exit counseling is required for all first-time Direct Loan borrowers; however, the law also prohibits schools from requiring students to complete additional loan counseling as a condition of receiving a Direct Loan. This handcuffs financial aid professionals, who know their students best, from being able to provide additional guidance to students who need it most.  Because graduate and professional students hold the largest loan balances upon graduation, more comprehensive and customized counseling may be necessary to ensure that they have sufficient information to make the best financial decisions about their education and repayment options. Read More
The existing income-driven repayment plans should be reduced to a single plan for federal student loan borrowers.
There are five different federal income-driven repayment plans designed to help federal student loan borrowers better manage their loan repayment obligations. While AccessLex Institute supports the intent of these plans—to ease the financial burden of borrowers—the number and details of the plans create unnecessary complexity and often lead to undue confusion for borrowers. And while the repayment programs tie a borrower's monthly loan payment amount to their income and forgive any remaining balance after some set number of years, the differing rules for participation make the programs too complex. A single income-driven repayment plan would reduce complexity and increase program participation. Read More
The Public Service Loan Forgiveness (PSLF) program should be preserved. 
Graduates employed in public service provide an immeasurable benefit to American society, and those who pursue graduate or professional school should be free to give back to society without the long-term burden of student loan debt. The goal of the PSLF program is to encourage individuals to enter public service fields, create incentives that promote a long-term commitment to public service, and increase vital services to individuals, states, and the nation. Thus, the primary benefit of PSLF goes to the beneficiaries of those services and society in general. Under this program, federal student loan borrowers may receive forgiveness of the remaining balance of their federal Direct Loans after making 120 payments while employed full-time by qualified public service employers. A repeal or cap on forgiveness would create additional financial stress and hardship for graduate and professional students serving the public interest. Read More
Costs associated with preparing for the test required for professional licensure should be eligible for funding by federal student loans.
For graduate and professional students, degree completion is not the end of their immediate studies or costs. Many professions (e.g. medical professionals, attorneys, etc.) require professional licensure exams to practice. These tests often take months of focused study to pass, and many students cannot work while preparing for the exam. Unfortunately, the "cost of attendance" criteria for federal student aid does not account for preparatory courses, living costs, or other miscellaneous expenses while preparing for these licensure exams. This forces many students to take out private loans, accrue credit card debt, or use other high-cost alternatives. Others may forego sufficient preparation to work full-time during the study period, which can negatively impact passage rates and graduates' ability to secure future positions. This, in turn, can negatively affect the federal fiscal interests by increasing deferment, forbearance, and default rates. Read More
Other Access, Affordability and Value Issues
Below are some other issues that AccessLex Institute supports that affect access, affordability and value of legal education, and graduate and professional education more broadly.
Congress should overturn the 2008 student-level data collection ban and expand access to comprehensive higher education data.

In 2008, Congress banned the creation of a federal student unit record data system. However, more and better quality higher education data is needed to assist a variety of stakeholders in making crucial decisions related to accountability and consumer choice for graduate and professional students. A well-designed federal student unit record data system can reveal more accurate post-graduation outcomes, ensuring students can make better decisions about their futures, and administrators and policy makers can make better decisions about resource allocation. Better decisions can lead to increased productivity and less waste. Student privacy and data security, both stated as reasons for instituting the ban, are very real concerns. But technology has progressed and anonymity and data integrity can be maintained with the proper guidance.


Eligibility for subsidized Stafford Loans should be reinstated for graduate and professional students from the neediest backgrounds.

 

The subsidized loans that graduate and professional students previously received, and current undergraduates still receive, is a critical way to pay for school while not ballooning students' costs while enrolled and focused on their studies. Because the Budget Control Act of 2011 eliminated subsidized Stafford Loans for graduate students, these students may still borrow the same amounts, but they can only borrow unsubsidized Stafford loans, which accrue interest while the student is enrolled in school. We should do all we can to help these students manage their debt levels and focus on being the most competitive players in the marketplace.
 

Graduate and professional students who have not used their maximum Pell Grant award as undergraduates should be allowed to use the remainder for their graduate and professional education.

 

The federal Pell Grant program provides need-based grants to low-income undergraduate students. The program is an entitlement to eligible students for up to twelve semesters. However, some undergraduate students may use less than twelve semesters of grant funding. In these cases, graduate and professional students whose undergraduate degree was obtained no greater than five years prior should be allowed to use the remainder of their Pell funds for graduate or professional school. We should not put up roadblocks to graduate and professional education, especially for students who need the funding most. 



Congress should establish a student loan cost structure that seeks to operate in a cost-neutral manner, providing for neither profit nor loss for the federal government.

 

Creating a cost-neutral federal student loan program through mechanisms such as lower interest rates or fees for students could lead to increased participation in higher education and, in turn, more productivity and economic contribution from students to the country.  Currently, according to the Congressional Budget Office, the federal Direct Loan program is estimated to provide a substantial profit to the federal government, but a cost-neutral structure would generate sufficient revenues for the government to cover its costs of lending and any losses, while providing affordable financing to students.