Employment Outcomes Show Signs of Improvement with the Class of 2018—Will Bar Passage Follow?
Compare and View the Latest Data Trends on Analytix
Analytix by AccessLex® now includes the 2018 Employment data from the American Bar Association. The data shows that 78.6 percent of the Class of 2018 secured full-time jobs that require a law degree or for which a law degree offers an advantage within 10 months of graduation—up from 75.3 percent the previous year (+3.3 percent) according to Law.com. The total number of graduates that fit these criteria also went up for the first time in the past four years, increasing slightly to 26,632 from 26,302 for the class of 2017.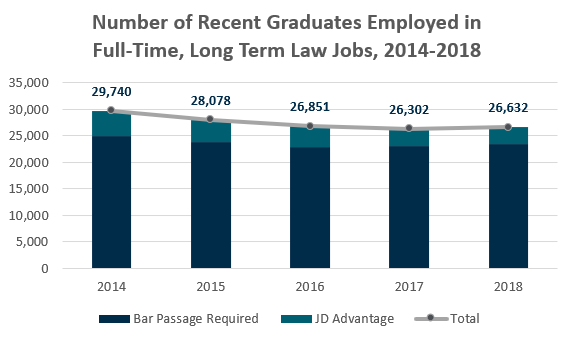 The National Conference of Bar Examiners (NCBE) also recently released their annual statistics, which include bar passage rates by jurisdiction for first-time takers from ABA-approved law schools who sat in February and July of 2018. In summary, 72 percent of all first-time takers from ABA-approved law schools passed the bar exam in 2018, which is three-percentage points lower than in 2017. The ABA's bar passage report details that 89 percent (29,371) of first-time takers in the 2018 calendar year were class of 2018 graduates. However, the report does not indicate the first-time bar passage rate for class of 2018 graduates to date, so it remains to be seen whether the improvement in law graduate outcomes extends beyond employment to bar passage.
Relatedly, the ABA Section of Legal Education and Admission to the Bar recently adopted a revision of Standard 316, stipulating that at least 75 percent of a law school's graduates who sit for the bar must pass within two years of graduation. The revision will take effect in spring 2020, starting with bar outcomes for the class of 2017. Based on figures for the class of 2016, 23 of the 202 law schools with graduates for that year would not meet the standard—of those, three have closed or suspended admission.
To review, compare and graph employment and bar passage outcomes by law school, visit Analytix.