How To Evaluate The Rise In Legal Employment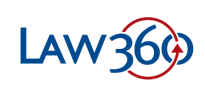 Article was first published in Law360 on July 12, 2019, and can be viewed here.
The employment outcome data for the law school graduating class of 2018, as reported by the American Bar Association in May 2019,[1] offered a glimmer of hope for law students and law schools alike.
Any sign of reversal in the downward trend in the legal market ought to signal a bright spot to prospective and current law students. And while it may be too early to prognosticate what the next set of data will show, much can be gleaned from the current information.
According to the ABA employment outcomes data, 77.8% of 2018 graduates secured long-term, full-time positions requiring bar passage or that were J.D.-advantaged, a 3.5% increase from the class of 2017.
Furthermore, the number of students represented by this group also increased from 26,293 in 2017 to 26,601 in 2018. These increases imply a shift in the established downward trend of this decade, which is excellent news.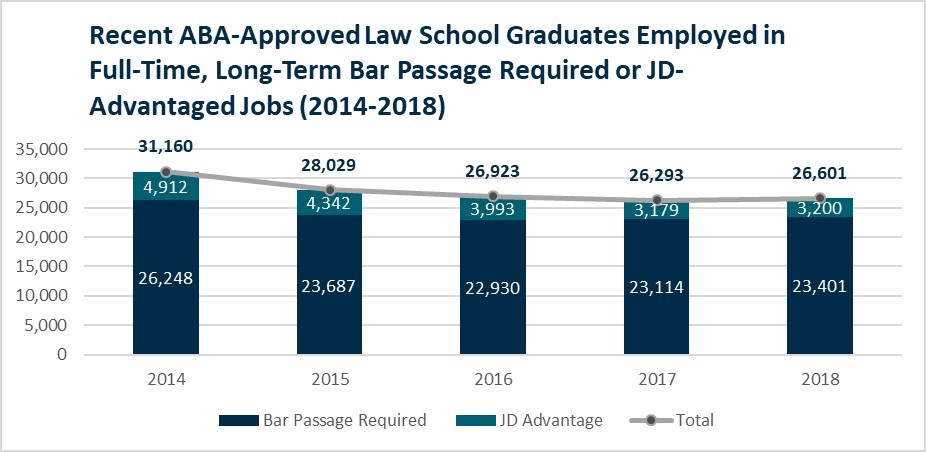 Source: ABA. Data presentation, analysis and commentary by AccessLex Institute.
The 2018 bar passage rates become a bit messier, though. According to the ABA 2019 comprehensive report,[2] 74.8% of first-time takers passed the bar compared to 77.3% in 2017. However, at the time the data was recorded, only 86% of 2018 graduates had sat for the bar, which means it is still possible for this gap to close somewhat.
"The data also suggests that the 'ultimate' pass rates — the rate of bar passage achieved within the time frame regardless of the number of attempts — show that aggregate and school-specific outcomes do increase significantly with additional tests over the first two-years after graduation," the ABA 2019 comprehensive report stated.
Like much of the other recent data, this too will not fully come into focus until we have data from 2019. Though much of the most recent data (and its interpretations) appears promising, it would be irresponsible to speculate without all the appropriate information.
In an interview with The American Lawyer,[3] Law School Transparency executive director Kyle McEntee said, "[L]aw schools should not become too comfortable with the upward trajectory of graduate employment rates. The entering class of 2015 — which went on to graduate in 2018 — represents the recent low point in national law school enrollment. First year enrollment has crept up slightly in each subsequent year, meaning that there will be more graduates on the job market next year, for the first time in half a decade."
What McEntee (and The American Lawyer article in general) propose is an interesting dynamic that may indeed point to a less than sunny future. In fact, there has been only a 3% increase in bar-required or J.D.-advantaged jobs in 2018, while the number of graduates fell by 2%, opening a seeming wealth of employment opportunities. But if enrollment continues to steadily increase as it has in recent years, that supply and demand advantage will progressively shrink.
In the same article, McEntee said, "Schools will suffer consequences unless we see an uptick in the actual number of jobs. The economy is pretty much full-steam ahead now. We're close to full employment according to some economists."
It is easy to differently interpret the variables in this complicated equation, while ultimately arriving at a similar outcome, which is that there is indeed a bright spot, a possible trend reversal. But, ahead there may lay a roadblock in job growth stagnation. This becomes even more intricate when we consider additional recent changes.
On May 17, the Council of the ABA Section of Legal Education and Admissions to the Bar decided to drastically change the bar passage standard, known as Standard 316. The aforementioned data now becomes critically relevant from a different angle.
The new standard requires 75% of a law school's graduates to pass the bar within two years or the school will be in danger of losing its accreditation. However, those students who chose not to sit for the bar during that two-year period will not be included in the computation of the school's compliance.
Prior to this approval, the council assessed compliance through a five-year measuring period, which also considered variances from the school's state median bar-passage, bar-passage for first-time takers and ultimate passage.[4] Prior to this change, no school ever failed to meet the standard, but now, looking at data from 2016, 11% of schools would have failed.
Furthermore, Standard 316 also creates uncertainty in several other areas. It is unclear how trends in law school applications and changes in admission practices will follow. Will this force law schools to become more selective, thus leading to increased bar passage rates? Schools may now place more emphasis on bar preparation through curricular or cocurricular efforts. Adaptation can take many different forms.
Regardless of what direction schools go, their mission will continue to be sending students into fulfilling careers and lives, even if for some that does not involve practicing law. And contrary to common belief, a law degree can be advantageous even for those who decide not to sit for the bar exam, those whose individual trajectories may lead them to public policy, politics or education, among other possibilities.
It is imperative for further research to be conducted on the current landscape of the legal job market. Many law students earn their law degree but decide not to practice. There is expansion in the field, and problematically, various organizations, associations and foundations view these parameters differently.
In the end what all this data and interpretation, even with the variances and contradictions, boils down to is the question all potential law students need to ask: Is this is a good time to go to law school? Indeed, it appears we may be in the first year of a trend-reversal, but like most every interesting thing, it's complicated.
In fact, perhaps it can be more productively argued the very concept of the legal market ought to be reframed to better illustrate career expansion and what it means to work in law today. Still, to answer the posed question: Yes. It is always a good time to go to law school if that is where your passion lies. Most likely, regardless of what you end up doing and when, you will ultimately decide if earning a law degree will enhance your career path and your life.