#MakeTheCase With AccessLex Institute's Advocacy Tool
Congress is on recess through September 6th, but you can still contact them now to voice the higher education issues most important to you. A draft of the Higher Education Act (HEA) has yet to be released, so now is the time for you to shape what goes into it.
Advocacy during HEA negotiations is important, but educating and establishing a relationship with your members of Congress before that process begins is even more critical. You can get involved and build those relationships through writing your members of Congress, meeting with them (or their staff) in your state or district, and hosting events at your school—all of which is made easier with our #MakeTheCase Advocacy Tool.
When HEA starts moving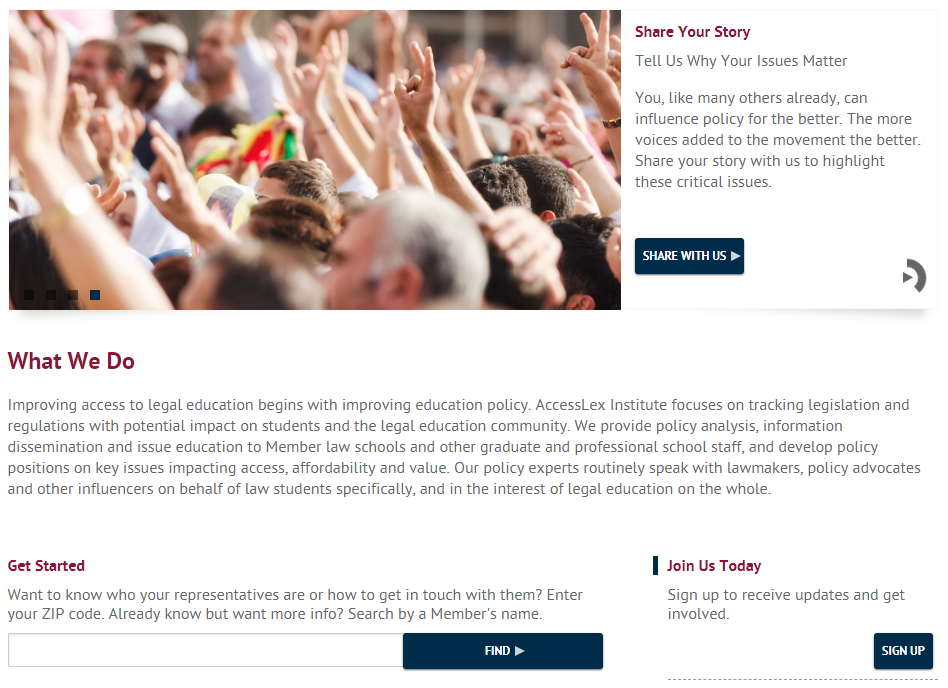 forward, it may do so quickly, so the speed with which you speak up is critical. With this tool, we have made advocacy easy and efficient, so you can be as effective as possible in making your voice heard. This can be accomplished through several features and functions.
First, you can sign up to get timely updates about what is happening in DC regarding HEA and other issues relating to higher education. We also keep you updated on "Bills We're Watching" by providing you with further information on how they will affect higher education, as well as AccessLex Institute's position on them.
Arguably, the most important feature of the tool is the ability to input your zip code and connect with your congressional representatives—at both the federal and state level. We provide their contact information, templates for emails, letters and tweets, scripts you can use for phone calls, and the opportunity to share your story about higher education issues and how they affect you.
A wealth of other resources can also be accessed through the #MakeTheCase Advocacy Campaign and our XBlog, including our weekly roundup of policy and advocacy issues, news, reports from AccessLex, our current concerns in DC, an advocacy toolkit of additional resources, as well as our Twitter feed.  
There are details and instructions throughout this exciting new tool to help you make the most of it. And you can learn even more by listening to our recent advocacy webinar, which gives an overview on what is happening in DC regarding HEA, and talks more about our advocacy tool. You can also check the AccessLex Center for Legal Education Excellence website to learn more about what we do.
Understand your stake and be a part of the conversation. Because to affect positive change, we first must #MakeTheCase.