MAX by AccessLex Scholarship Winners Announced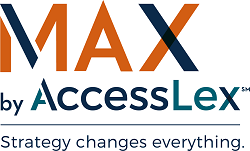 AccessLex Institute is excited to announce that Molly Humphreys from the University of San Diego School of Law and Connor Wood from the University of Cincinnati College of Law have each been awarded a $5,000 scholarship as the winners of the December 2018 MAX by AccessLex Scholarship Drawing. MAX by AccessLex is a personal finance program designed exclusively for law students and offered free of charge to ABA-approved nonprofit and state-affiliated ABA-approved law schools. Nearly 4,000 students at 120 law schools are currently enrolled in the program.
 
The second scholarship drawing will occur in March 2018 when another two students will each be awarded a $5,000 scholarship. The program's annual grand prize scholarship drawing, in which two students will each be awarded $40,000, will be held in May 2018. By the end of the 2017-2018 academic year, AccessLex Institute will have awarded $100,000 in scholarships through the MAX program.