AccessLex Report Sheds New Light on ABA Feeder School List
The Law School Admission Council (LSAC) recently released the 2017 Top 240 Feeder Schools for ABA Applicants. This annual publication lists the 240 schools that supply the most applicants to ABA-approved law schools per academic year. AccessLex Institute builds on this list in its latest report, "Law School Applicants by Degrees: A Per Capita Analysis of the Top Feeder Schools," by analyzing trends in law school applicant concentration at schools on LSAC's 2016 feeder school list.
The report defines "applicant concentration" as the volume of ABA law school applicants relative to the number of bachelor's degree recipients at an institution in a given year, and is calculated using applicant data from LSAC and bachelor's degree recipient data from the Integrated Postsecondary Education Data System (IPEDS). The resulting "per capita" figures can help identify which colleges and universities have students who are more likely to be engaged with pre-law programming and receptive to law school recruitment efforts.
The findings reveal that the concentration of law school applicants is declining among the top ABA applicant feeder schools. Between the 2011 and 2016, applicant concentration decreased at 226 schools, and the median applicants per capita rate fell 1.7 percentage points from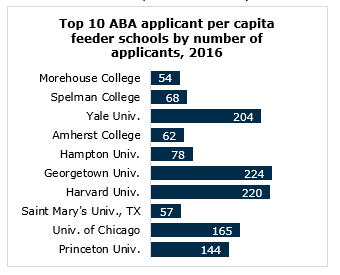 5.5% to 3.8%. These trends in in applicant concentration mirror the overall decline in law school applications since 2011. 
Despite the declining trends in applicant concentration, the results point to promising opportunities to increase law school applicant volume. Schools with higher concentrations of applicants tend to be smaller, private schools with lower applicant volume, but represent vibrant legal education pipelines. In contrast, public schools with low applicant concentration represent opportunities for law schools to increase applicant volume given the size of these institutions and the number of graduates they produce.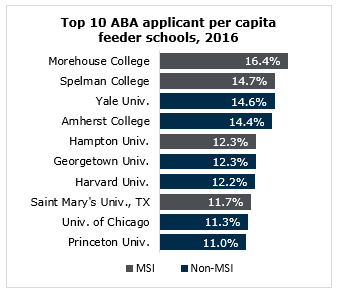 The results also point to promising opportunities to increase law school applicant diversity. Minority-serving institutions (MSIs) have some of the highest levels of applicant concentration.
Moreover, applicant concentration appears to be more stable at top ABA applicant feeder schools with larger proportions of Black and Hispanic bachelor's degree recipients. Between 2011 and 2016, schools with higher proportions of black and Hispanic bachelor's degree recipients experienced lower rates of decline in applicant concentration compared to schools with smaller proportions.
Read the full report here.
Download the data used to generate the report here.