Become a Student Advocate and #MakeTheCase for Law Students
With student loan debt reaching record highs and COVID-19 upending the financial security of students across the country, advocating for policies that will help ease the financial strain students are facing has never been more important. 
One of the best ways a student can influence policy is by directly engaging with a Member of Congress. This can include meeting with your Member of Congress (or their staff), calling their office, tweeting them, or writing them an email. Directly engaging is an effective way to advocate because policymakers depend on constituents to share information that they can use to make policy decisions that have a positive impact on their communities. It is through this kind of exchange that elected leaders' views are shaped and the issues you care most about are highlighted. It is also how and when you can ask them to support, reject, or propose a bill.
Advocating for a change might seem intimidating,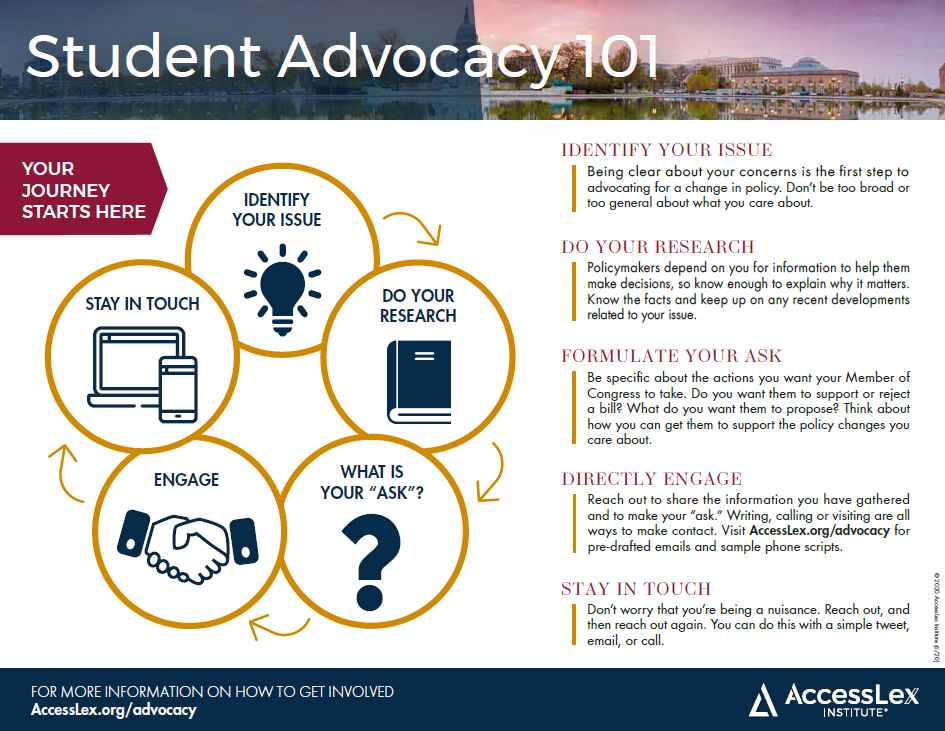 and that is why AccessLex has put together a step-by-step guide to help you better understand how to use your voice to do just that. This simple, easy to follow document will help you navigate the process of interacting with your Member of Congress. It shows you how to identify your issue, do your research, formulate your ask, engage and stay in touch.
As Congress begins thinking through higher education financing and the next COVID-19 relief bill, now is the time to reach out and #MakeTheCase for supporting law students.
Your voice has never been more important than it is now. Join the conversation today!
For more tips and resources, visit our #MakeTheCase site.