How Much Does Bar Exam Registration Cost?
By:
|
Academic and Bar Success
Financial Education
Research and Data
The costs associated with attending law school are generally evident to prospective and enrolled law students, but expenses incurred for registering, preparing, and sitting for the bar exam may come as a surprise. Bar preparation courses and materials, living expenses during the preparation period, transportation to and lodging at the exam site — these expenses can quickly add up for bar applicants. And there is one more major bar exam expense that can vary wildly from jurisdiction to jurisdiction: the registration fee for the bar exam itself.
Every jurisdiction sets its own bar exam registration fees. The registration fee covers the costs associated with processing bar applications and administering the exam. In some jurisdictions, this fee also covers character and fitness (C&F) investigations, while others outsource some or all those investigations to the National Conference of Bar Examiners (NCBE), which charges applicants a separate fee. In either scenario, the combination of registration and C&F fees can be expensive: 26 jurisdictions have combined bar exam and C&F fees of over $750 for a recent law school graduate and eight have combined fees of $1,000 or more. Further, all but six jurisdictions add an extra software licensing fee (usually $100 to $150) for applicants who wish to take the essay portion of the exam on a laptop. Fees for all 51 U.S. jurisdictions as of September 2022 are available here. 
Most Jurisdictions Have Bar Exam Registration Fees Over $750 for Recent Graduates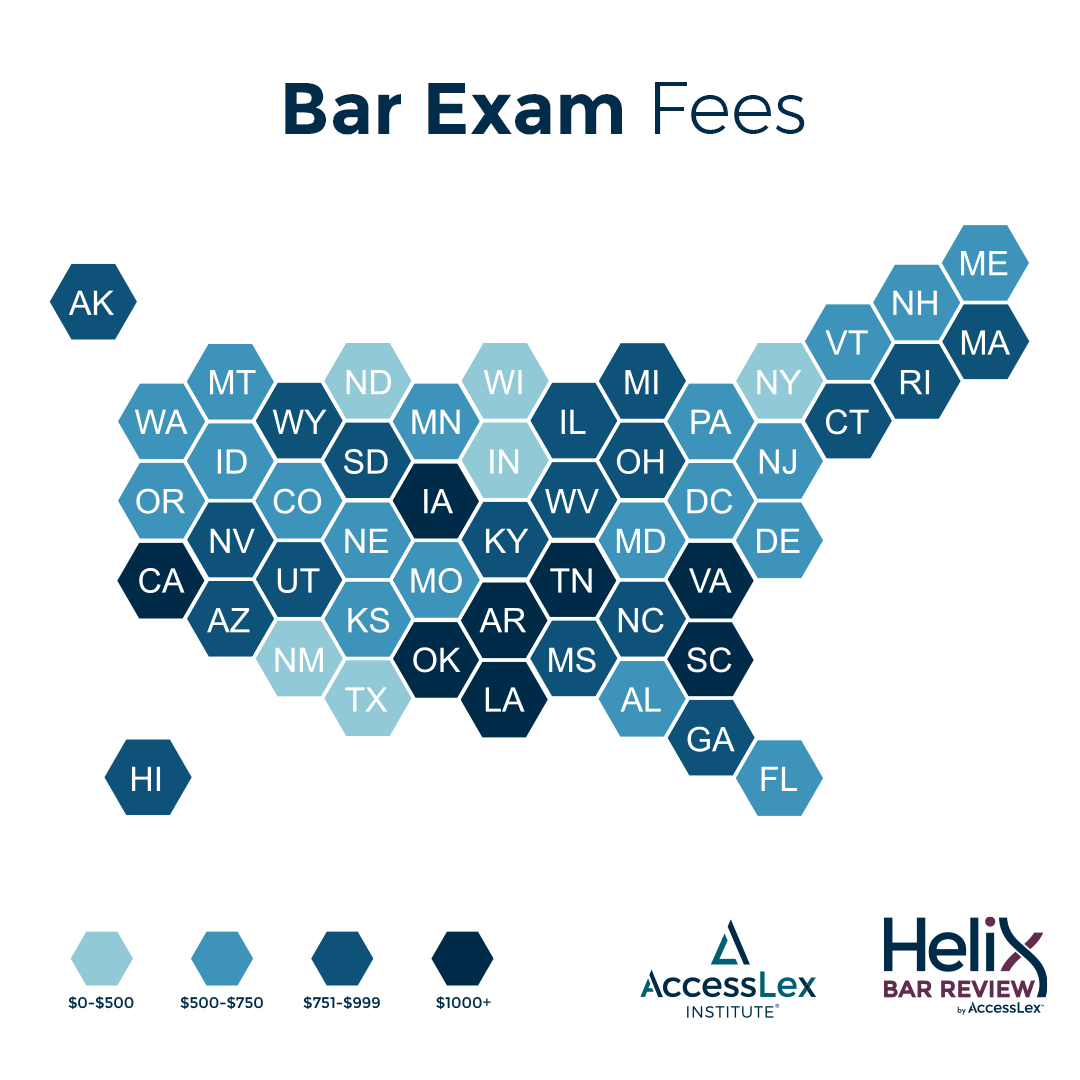 Presumably, recognizing the special financial burden bar exam registration fees place on recent law school graduates, 17 jurisdictions have instituted two-tiered pricing: one for those who are not yet licensed in any state and a higher-cost tier for established lawyers who have already been licensed elsewhere. Additionally, the NCBE charges different non-attorney/attorney rates in the jurisdictions that use its C&F services. Such a fee structure may tilt the cost burden toward those who are better able to bear it. 
Beyond the non-attorney/attorney tiered pricing, 35 jurisdictions also have multiple application deadlines, with late registration penalties increasing as the bar exam approaches. In some areas, the registration fee can double by the final deadline. These fee structures are likely used to discourage late applications so that bar examiners are not faced with a crunch of applications to process just before the exam. For the same reason, 11 jurisdictions also encourage or require that law students planning to take the exam in their state pre-register with the bar during their first or second year of law school. Under this arrangement, students pay a "law student registration fee" upfront and begin the C&F investigation process early in exchange for a discount on their eventual bar exam registration. 
Given the variation in bar exam registration fees and fee structures across jurisdictions, early awareness of these expenses is critical for helping students financially prepare for the bar exam. Accordingly, many law schools strongly encourage their students to begin the bar exam application process as early as possible, as doing so could save them hundreds of dollars. This is especially true in the law student registration states, where registering early in law school can net discounts, but registering too late can incur financial penalties. 
Overall, there is no standard or correct structure for bar exam registration fees.  The best thing to do is to plan ahead and budget to be prepared for expenses associated with the bar exam. Check out Helix Bar Review for free and at-cost resources to consider as part of your bar prep strategy!