Examining Value, Measuring Engagement: A National Study of the Long-Term Outcomes of a Law Degree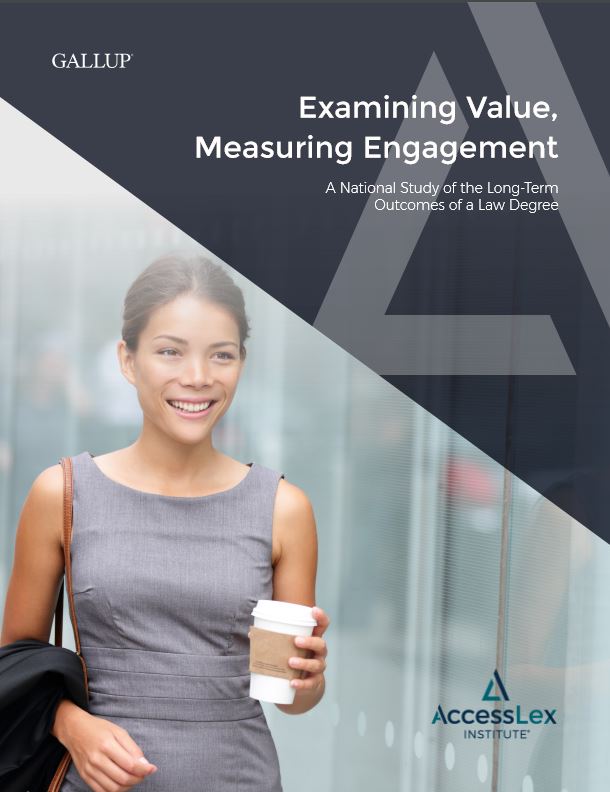 The Gallup-AccessLex Institute study of Juris Doctor (J.D.) degree holders provides important insights for educators, employers, law school alumni and prospective students about the factors that contribute to great jobs, lives and experiences for law school graduates.
---
Foreward
A Message from AccessLex Institute
There was a time when earning a law degree was assumed to be a sure path to financial security and prestige. The ostensible trappings of the legal profession — power, access and wealth — made law school a popular higher education destination for people wanting to make money, change the world or simply "find themselves." In those days, law school was relatively inexpensive, and jobs were plentiful. But rising tuition costs and the recessionary contraction of the legal job market have led to declines in the popularity of law school as questions about the value of a law degree have risen.
To learn more about how the value of a law degree is currently perceived, AccessLex Institute commissioned Gallup to conduct a study of law school graduates at various stages of their careers, as well as graduates in other disciplines. The study adopted a holistic conception of value, encompassing not only financial payoffs, but also well-being and professional engagement. We were interested in learning more about how the perceived value of the degree varied among people who graduated law school before, during and after the Great Recession. We also wanted more insight into how law school graduates' experiences and perceptions compared with those of recipients of other higher education degrees. The study builds on our Life After Law School report by drawing from a more nationally representative sample of graduate and professional degree holders.
Several important themes from this report stand out — the most prominent being that the perceived value of a law degree remains high across all bachelor's degree and advanced degree holders. Almost half of the survey respondents stated that a law degree was "very valuable." This proportion was second only to a medical degree among degrees beyond the bachelor's level. The findings also highlight the broad utility of a law degree. Law graduates were more likely than other degree holders to state that their studies helped prepare them for financial, legal and other issues that arise in their personal lives. Law graduates also extolled the extent to which their studies helped hone their analytical and critical thinking skills.
But in spite of this positive view of a law degree's extended usefulness, the challenges of the Great Recession were apparent. Study participants who graduated law school during or after the recession were less likely than earlier law school graduates to find satisfactory employment within one year of graduation. Not surprisingly, these graduates were also less likely to state that their law degree was worth the cost. We observed similar trends among graduates who amassed large amounts of student loan debt to finance their legal education.
In short, while a law degree is still held in high esteem, it is now seen as a riskier investment than in the past. The law encompasses everything we do, and lawyers are stewards of the legal process. Therefore, understanding the factors that underlie perceptions of legal education — the predominant pathway into the legal profession — is important to legal educators, to the legal profession and to society. We are happy to have partnered with Gallup to conduct this important study.