Types of Financial Aid
Financial Education
Grants
Financial aid comes in many forms and from different sources. Understanding what resources are available to you is the first step in deciding how you will pay for your education.
Grants and Scholarships
Typically referred to as "free" money, grants and scholarships can be awarded based on merit, need or a combination of both. Be sure to check your school's website and speak with the admissions and financial aid offices to find out more about availability and eligibility requirements. Here are some other tips:
Apply early
Grant and scholarship funds are limited, so apply early. In many cases, there will be a separate application process and separate deadlines from the Federal financial aid applications you may complete. Do your research early so you don't miss your chance at these funding sources.
Your school may not be the only source of scholarship and grant aid for which you may be eligible. Contact your school financial aid office to ask for a list of other available financial aid opportunities. If they don't have one, they will be able to advise you where to find a list that can help.
Things to know about grants and scholarships
If you are awarded a grant or a scholarship, be sure to ask the following questions:
Will it be renewed automatically every year? If so, will it be renewed for the same amount or will the amount be adjusted?
If the amount is adjusted, what are the criteria for making the adjustments?
If the award is not renewed automatically, can I reapply for this or another grant or scholarship next year?
Will my academic performance affect the amount of my award in subsequent years?
Does this grant or award have a service component?
Are there any special application procedures or deadlines of which I need to be aware?
Employment
Federal Work Study (FWS) programs allow you to earn additional money to pay for your education as part of your financial aid package. Some factors that will determine your eligibility to receive Federal Work Study funding include:
Your school's participation in the FWS Program;
Availability of FWS funds at your school;
FWS policies at your school;
When you apply for financial assistance; and
Your level of financial need.
Contact the Financial Aid Office at your school to learn more about the options for Federal Work Study that may be available.
Student Loans
Student loans can be a good way to bridge the financial gap between your savings, income, grants and scholarships and your projected education expenses – that is, if you know your options.
Calculate how much each loan type will cost with our student loan calculator.
Start with Federal Loans
If you need to borrow, look first to the federal loan program. The federal loan program offers students:
Less onerous or no credit requirements,
Multiple loan repayment options,
Longer repayment periods, and
Other protections.
Within the federal loan program, there are primarily two options for graduate and professional students:
Federal Direct Unsubsidized Loan
Federal Direct PLUS Loan (commonly referred to as Grad PLUS)
Neither of these loans is based on need, which means it is not a requirement that you have demonstrated financial need in order to borrow, so any eligible student can apply; however, the Grad PLUS loan does require a credit check.
 
Federal Direct Unsubsidized Loans
Borrow up to $20,500 per academic year
Loans are unsubsidized, which means interest will begin accruing at disbursement
No payments required while you're in school, as long as you're enrolled at least half-time
No credit check required
Grace period: 6 months after you graduate or withdraw from your program of study
10 to 25 years to repay the loans (depending on total loan debt and the repayment plan you choose)
Multiple loan repayment options, including forbearance and deferments
Federal Direct Graduate PLUS Loans
Borrow up to the full cost of attendance, as determined by your school (less other forms of financial aid)
Credit check required
Loans are unsubsidized; interest will begin accruing at disbursement
No payments are required while you're in school, as long as you're enrolled at least half-time
10 to 25 years to repay the loans (depending on total loan debt and the repayment plan you choose)
Multiple loan repayment options, including forbearance and deferments
2016 - 2017 Federal Student Loan Interest Rates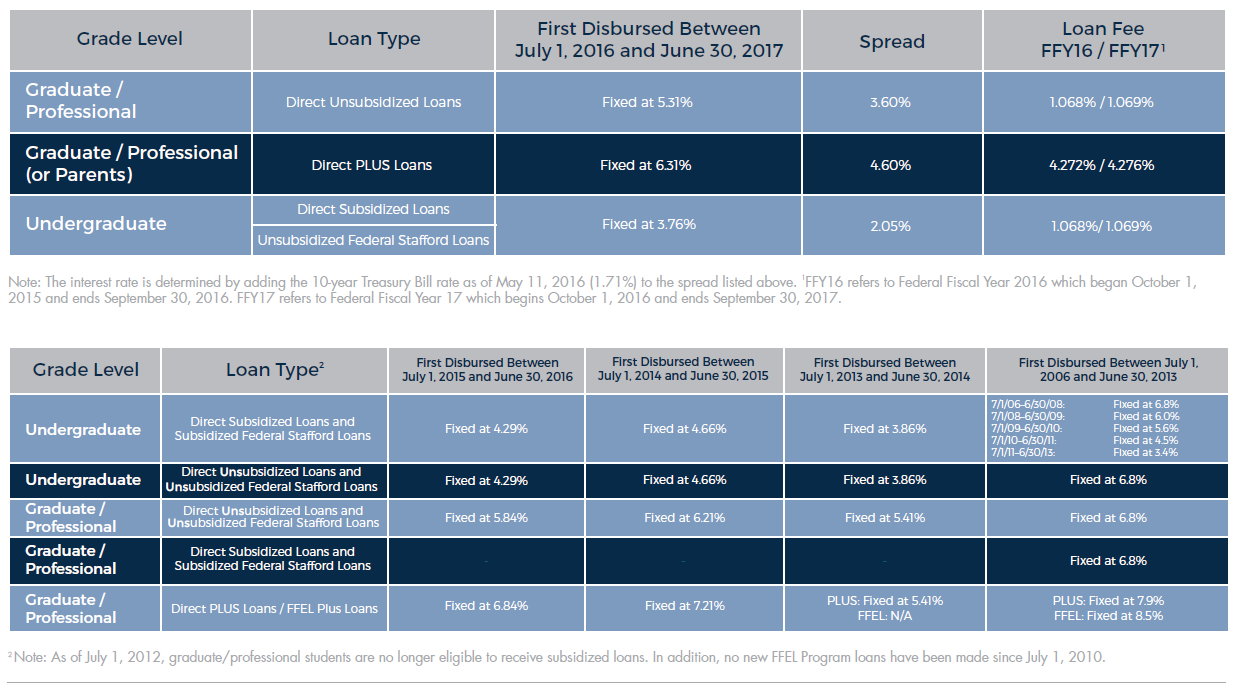 During any period of deferment or forbearance (meaning when you have permission from the loan servicer to postpone payment), interest will accrue and be added to the principal loan balance at the end of the deferment or forbearance period. You have the right to pay the interest as it accrues if you can afford to do so. This way you won't get hit with a big lump sum at the end.
Credit Criteria for Grad PLUS Loans
A credit check is required for all PLUS loan applicants and having "adverse credit" may impact your ability to get a PLUS loan. However, if that is the case, you can still attempt to obtain a loan by providing a credit-worthy endorser. An endorser is someone who does not have an adverse credit history, and agrees to repay the loan in cases where the borrower cannot or does not repay it. Current regulations define "adverse credit" as when at least one of the following applies:
Currently 90 days or more delinquent on repayment of any debt
Have had a debt discharged in bankruptcy during the past five years
Have evidence of a default, foreclosure, tax lien, repossession, wage garnishment or write-off of a Title IV debt during the past five years
If you are denied a Grad PLUS loan based on credit, and do not have an endorser, you may be able to appeal the decision through the Direct PLUS loan reconsideration process. See your financial aid administrator for more information about that process.
State and School Loans
Some states and individual schools offer their own education loan programs. Eligibility for these loans will vary and may or may not be based on financial need. These loan programs may be limited in total dollars available or may, in some cases, be used as "loans of last resort" to assist students having difficulty in obtaining assistance from other sources. Check with the financial aid office at the schools you are considering for specific information on availability, terms and application process.
Private Loans
Private loans (loans obtained through a bank or other financial institution that are not backed by the federal government) are generally used by students who either don't qualify for federal student loans or who have additional need after using Federal student loans. Private loans may also cover other expenses such as the costs associated with preparing for licensing exams. Your financial aid office may have information about private loan programs available to further assist in meeting your needs.