Legal Education Data Deck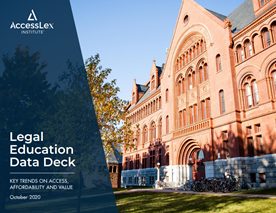 The 2020 Legal Education Data Deck utilizes datasets made publicly available by third parties to offer a snapshot of certain data and trends organized around the three guiding principles of AccessLex Institute's research agenda: access, affordability and value in legal education. This is a living document that is updated periodically—AccessLex welcomes comments, criticisms and suggestions in order to make this as useful a tool as possible for all those we serve.
---
The data contained herein exists thanks to the work of the Law School Admission Council, the National Conference of Bar Examiners, the National Association for Law Placement, the American Bar Association Section of Legal Education and Admissions to the Bar, the U.S. Department of Education and the Department of Labor. We thank these and other organizations for making such data available.
AccessLex Institute uses these data as the basis for the presentation, analysis and commentary contained herein, and takes sole responsibility for the quality and accuracy of such presentation, analysis and commentary.
View our accompanying dashboard, "Exploring Bar Performance."