Legal Education Data Deck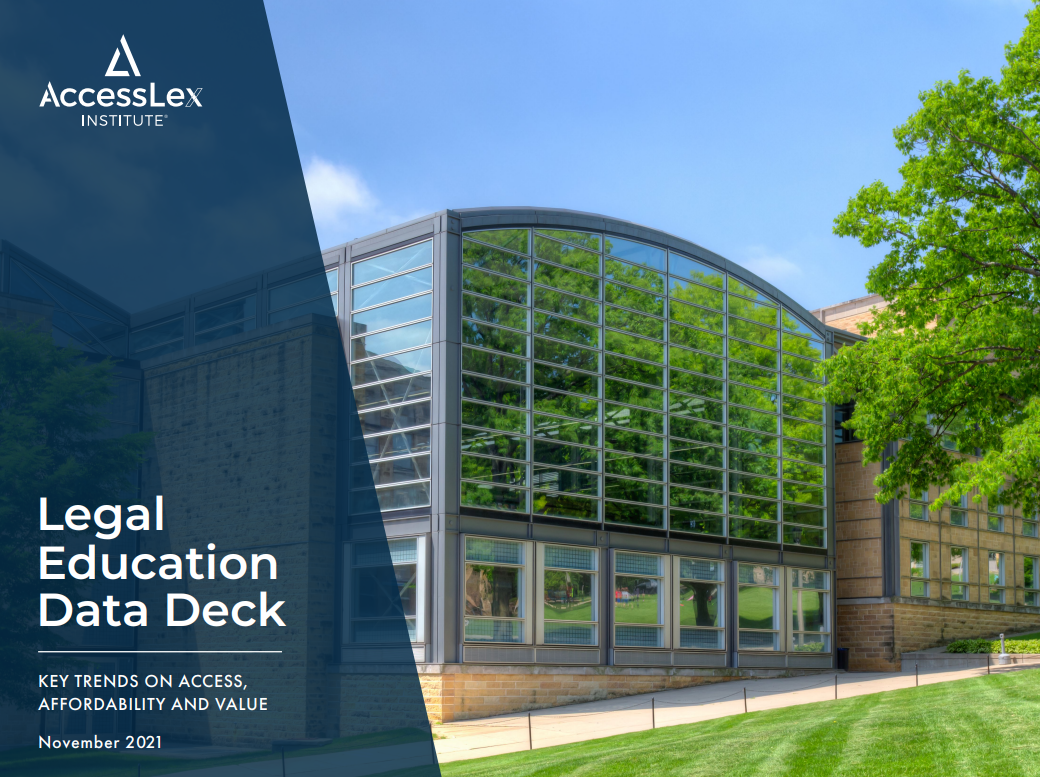 AccessLex prepares the Legal Education Data Deck for the use of the legal education community, policymakers, and others interested in viewing a snapshot of certain data and trends organized around our three driving principles: access, affordability and value. The Data Deck is a living document that is updated periodically, and we are happy to announce the most recent version is now available. The updated data deck trends the latest admission, enrollment, degrees awarded, tuition, and grants awarded data from the most recent ABA Standard 509, LSAC, and National Center for Education Statistics reports. Notable updates include:
The updated data deck contains the latest employment and bar passage outcomes for recent law graduates released by NALP and the NCBE, respectively.
Employment and bar passage statistics may have been affected by the COVID-19 pandemic. For example, some jurisdictions expanded or adopted diploma privilege, and others canceled one or even both administrations of the 2020 bar exam. Many students delayed taking the bar altogether, further affecting both bar passage and employment trends.
The first-time bar passage rate for July 2020 rose to 82 percent, just one percentage point below the high of 83 percent in 2011. Again, this is likely to be affected by pandemic-related impacts.
32 jurisdictions saw an increase in bar passage rate over 2019. Only four jurisdictions' pass rates fell by more than five percentage points.
2020 saw a slight increase in the percentage of unemployed and part-time employed graduates, as well as a slight decrease in the percentage of graduates employed in jobs requiring bar passage. However, as NALP recently reported, the class of 2020 had relatively strong employment outcomes considering the challenges associated with the onset of the pandemic.
---
The data contained herein exists thanks to the work of the Law School Admission Council, the National Conference of Bar Examiners, the National Association for Law Placement, the American Bar Association Section of Legal Education and Admissions to the Bar, the U.S. Department of Education and the Department of Labor. We thank these and other organizations for making such data available.
AccessLex Institute uses these data as the basis for the presentation, analysis and commentary contained herein, and takes sole responsibility for the quality and accuracy of such presentation, analysis and commentary.