An online curriculum is necessary to provide learning opportunities on-the-go and in short, manageable segments. But researchers indicate, and the responses from the MAX pilot program confirm, that meaningful knowledge gain and behavior change are more likely to occur when learning is supported through multiple channels and with varied touchpoints. For this reason, MAX includes:
MAX Online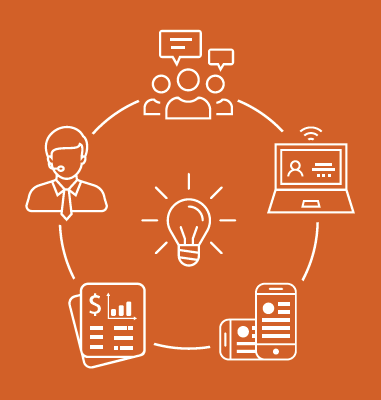 This is your online personal finance curriculum and resource center. This simple profile environment (name, email address, school and class year) allows students to personalize their experience and track their progress while keeping profile creation time and personal details to a minimum. MAX Online is fully mobile; built with smart-phone and laptop/tablet functionality.
MAX In-Person Workshops
Fall and Spring workshops highlight topics covered in the Fall/Spring online learning paths. MAX Coaches work with school administrators to select the best opportunities on campus for these workshops, even customizing multiple sessions to address different student demographic needs.
MAX Talks
These high-energy webinars and podcasts focus on single topics (foundational, special interest and hot topic tracks). MAX Talks appear on the calendar and in MAX paths online for easy sign-up and viewing.
MAX Monthly
This monthly newsletter reinforces MAX content and encourages relevant and timely actions toward specific
personal financial goals. Plus, it reminds students of their incentive opportunities as well! 
MAX Coaching
Access one-on-one financial coaching with our AFC®-accredited MAX Coaches. Students may reserve times for virtual coaching sessions via MAX Online or take advantage of MAX Coaching opportunities offered
onsite in conjunction with MAX Workshops – or at other prescheduled times throughout the year.
"Just by their approach in the pilot, AccessLex Institute showed they have a real understanding and appreciation for legal education and the way law students work. MAX will have an immediate impact, and I can't wait to get it up and running at our school."
                                                                          — Adrienne J. Packard, JD, Director of Student Affairs, Howard University School of Law